This is a common question. Many customers also ask if they should cover their AC unit in the winter and wonder about the best way to winterize their system.
At Thomas Hoffmann Air Conditioning & Heating, we specialize in installing, repairing, and maintaining every component of an HVAC system. We will help you protect your investment and ensure long-lasting comfort and reliability all year long.
Here are answers to common questions about correctly winterizing your AC system. Contact Thomas Hoffmann Air Conditioning & Heating if you have any other questions.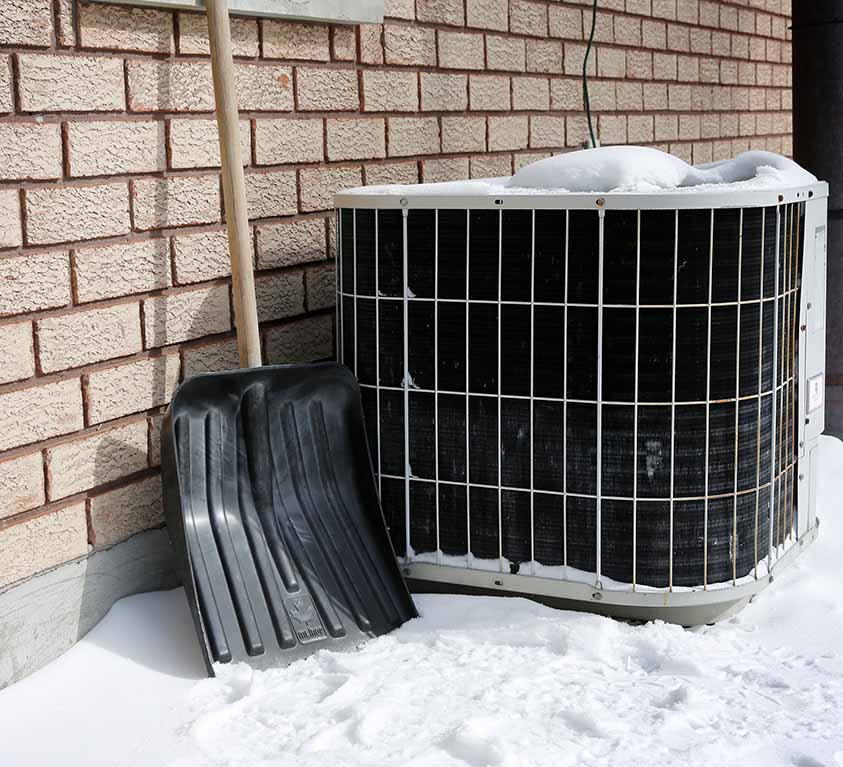 Does snow hurt your air conditioning unit?
Air conditioners are built with a sturdy metal covering to resist the elements, including wind, rain, heat, and snow. They are installed outside and are therefore made to withstand harsh weather.
Should I cover my AC unit during winter?
It may seem logical to put a cover over your AC system to prevent moisture from damaging the unit. However, there is no way to prevent moisture from getting inside. A cover will trap moisture, encouraging the growth of mold and mildew. Moisture can also cause your system to rust which can affect the parts inside and keep it from working correctly.
Another issue with using a cover is that it attracts critters. Animals like mice and squirrels may find a warm retreat from the cold underneath, causing a whole other set of problems.
How do I winterize my AC unit?
While it's true that your AC system is built to withstand harsh conditions, it is still essential to winterize your system. During the fall and winter months, leaves, water, and debris can clog and rust mechanical parts of your system. To protect it, you need to winterize it each year. How do you do this? Here are some tips:
Turn the power off – There is a switch on each AC system that turns off the power. It's typically located under a plastic or metal lid. Turning the power off will prevent it from turning on during a warm day, which will keep water out of the unit that could freeze overnight and damage mechanical components.
Clean the unit – Dirt and debris collect around the AC unit in the summer and fall months. Clean any gunk off of it with a clean wet cloth. Remove sticks and leaves near the unit to prevent critters from burrowing underneath.
Insulate the pipes – It's a good idea to cover the pipes of your AC system. If you don't, they can freeze and burst when the temperature drops. You can use foam pipe covers and duct tape to keep it in place.
Check on it periodically – After a major snow or ice storm, it's good to check on it to ensure nothing is damaged.
Schedule Regular AC Maintenance
A routine AC maintenance service from Thomas Hoffmann Air Conditioning & Heating could help you avoid expensive air conditioner repairs. It could also increase the efficiency of your AC system, helping you save money.
A well-serviced cooling system can make you and your family more comfortable during humid St. Louis summers. It may also help your system last longer.
24/7 Service Call Now
At Thomas Hoffmann Air Conditioning & Heating, we pride ourselves in being a locally owned and operated HVAC company. With more than 30 years of experience and a master technician and mechanical engineer as our owner, we can replace, repair, and provide maintenance for your business or home's HVAC system.
(314) 471-7625