Furnace Installation St. Louis
Call (314) 471-7625 :: Your comfort level and energy costs are highly dependent on the type and size of the furnace you purchase and whether it's installed correctly.
Having a new furnace installed is a significant investment that will affect your family's comfort and energy bills for years to come. Deciding on the efficiency rating, size, and brand can seem overwhelming. However, with over 30 years of experience in the industry, Thomas Hoffmann Air Conditioning & Heating will help you understand what system is right for your home and budget. We have firsthand experience and product knowledge to heat your home successfully and affordably.
Whether you need a furnace installed for the first time or are replacing an outdated system, we will guide you through the process to ensure a positive outcome.
Furnace Installation Process
A reliable furnace will keep you and your family warm during the winter months in St. Louis. To ensure that you have the right heating system installed for your needs, Thomas Hoffmann Air Conditioning & Heating will follow our proven HVAC installation process. This process includes:
Choosing the right furnace – We will help you determine which heater is right for the size of your home. An undersized furnace won't get your home quite as warm as it needs to be. An oversized furnace will keep your home warm no matter how cold it is outside; however, it will do so at a cost. We will help you determine which furnace is the perfect size.
Choosing a manufacturer – As a Trane Authorized Dealer, Thomas Hoffmann Air Conditioning & Heating installs some of the most efficient, dependable, and long-lasting furnaces available on the market today. We are happy to give you details about the exact models we carry when you call us for a heating installation estimate.
Selecting an efficiency rating – It pays to have a high-efficiency furnace installed. We will help you calculate the payback period when you invest in an ENERGY STAR® certified furnace. This will allow you to understand whether the furnace provides a satisfying return on your investment to make the purchase amount worthwhile.
Performing sizing calculations – Some heating contractors size a new furnace based only on the square footage of a home, but this doesn't paint a complete picture of your home's heating load. It's important to consider the size of your home, insulation levels, window layout, air infiltration rates, interior heat gain, and other factors that may impact the efficiency and performance of your system.
Installing your new furnace – On installation day, one of our technicians will arrive and install your new furnace to the manufacturer's exact specifications. They will calibrate the system for energy savings and comfort, teach you how to use the programmable thermostat, and haul away the old equipment.
Trane Furnaces
Trane gas and oil furnaces are uniquely designed with efficiency and precise temperature control in mind. With one-stage, two-stage, and modulating furnaces – there's a perfect furnace for every home. Trane furnaces are reliable, quiet, and guaranteed to keep you comfortable and heat your home even on the coldest days.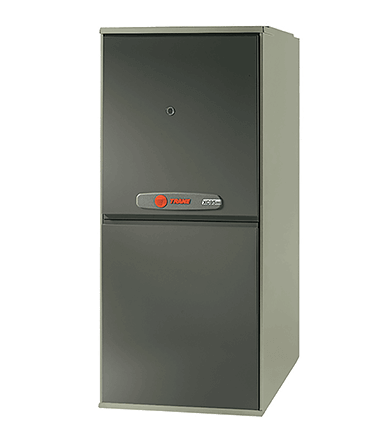 XC95m Gas Furnace
Most energy efficient
Up to 97.3% Annual Fuel Utilization Efficiency (AFUE)
Variable-speed blower motor adjusts speed to provide a consistent flow of warm, comfortable air with quiet operation.
Advanced ComfortLink™ II communicating technology continuously calibrates itself for optimal performance.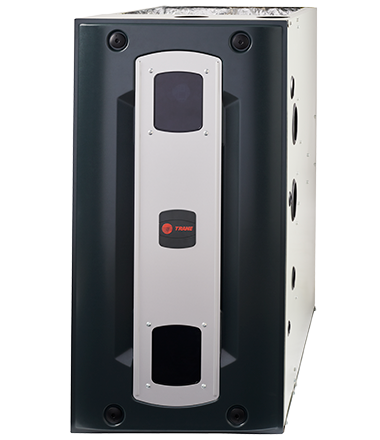 S9V2-VS Gas Furnace
Quietest – combines high energy efficiency with noise-reducing technology
Patented Vortica™II variable speed blower and variable speed draft inducer
Energy Star rated furnace rated up to 97% Annual Fuel Utilization Efficiency (AFUE)
Comfort-R™ enhanced dehumidification mode reduces home humidity level in summer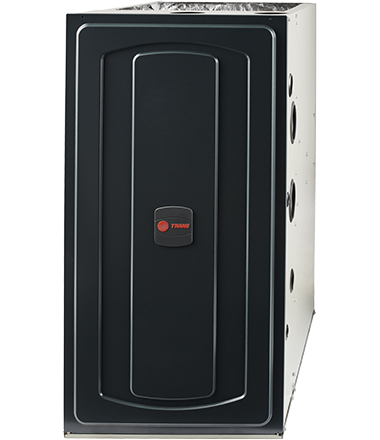 S9X1 Gas Furnace
Best value – most affordable high energy-efficient furnace
High-efficiency rating of up to 96% Annual Fuel Utilization Efficiency (AFUE)
Tested materials and components for dependable performance
Contact Thomas Hoffmann Air Conditioning & Heating
Thomas Hoffmann Air Conditioning & Heating is a full-service residential heating and air conditioning company in St. Louis. With over 30 years of experience and a master technician and mechanical engineer as our owner, we can replace, repair, and provide maintenance for your home's HVAC system.
We will service all types and repair all brands of furnaces. If you need a new system, trust us to help you determine which one will best fit your needs.
24/7 Service Call Now
30+ Years Experience – HVAC Engineer