If you have ever wondered: "Why do my air filters get dirty so fast?" you're not alone. Many homeowners have asked this question.
Where does all of the dust and dirt come from? And more importantly, what can you do to stop it?
24/7 Service Call Now
30+ Years Experience – HVAC Engineer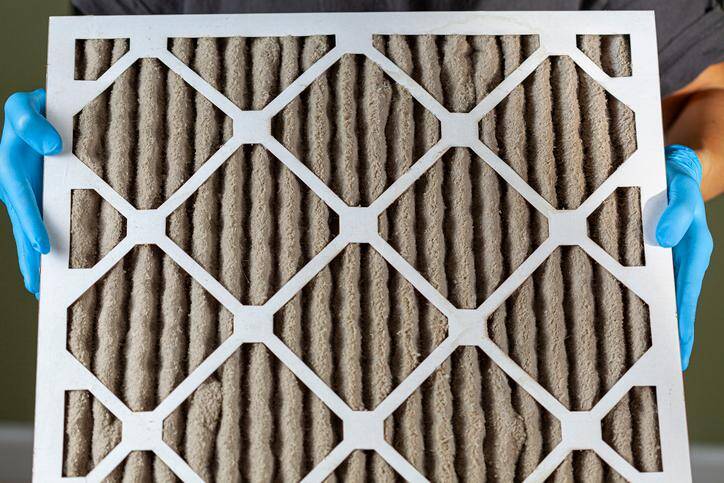 Possible Causes
There are many reasons why your air conditioner filters are getting dirty quickly. Here are the top four culprits. 
Cheap filters: Cheap filters tend to have shorter lifespans than high-quality filters. Take, for instance, the standard fiberglass air filters. These types of air filters are generally designed to last for 30 days. Therefore, if you notice that your air filters are gathering dirt fast, it may be due to the inexpensive and low-quality air filters you're buying.
High temperatures: When the outside temperatures become extreme, your air filter might begin to experience dirt problems. This is because, during extremely hot weather, more air is pushed through the AC system by the blower motor. As a result, the filters will capture more dirt and clog faster.
Contaminants in the Air: High levels of dust and debris put a strain on your unit, making your filters clog faster. An increase in the number of people in your home can also increase the amount of dirt being kicked up into your system.
Leaking air ducts: The air ducts are responsible for carrying heated or cooled air around your home. If there are duct leaks, this will make your unit work harder and get dirtier faster.
Mold: In some cases, moisture can transfer to the air conditioner, leading to growth and accumulation of mold on the air filters. Aside from slowing your system, mold can also cause health issues. 
Problems Caused by Dirty Filters
When your air filter becomes dirty, you may experience the following problems:
Overheating: When the AC filters are dirty, they may eventually cause your air conditioning system to overheat. This is because the system has to work harder to keep up. 
Inadequate heating/cooling: If your AC filters become clogged, reaching the desired indoor temperature levels can be difficult. Less air blowing through the system due to dirt and debris can, in turn, lead to uncomfortable warm temperatures in your home. 
Unclean air: If your conditioner is not working properly, the air inside your house will become stagnant, and this can cause poor indoor air quality. Poor indoor air quality has been linked to respiratory issues such as asthma and lung disease.
Call Thomas Hoffmann Air Conditioning & Heating
Whether your air filters are getting dirty too quickly, your system needs maintenance, or you are in need of any other HVAC service, our experienced HVAC technicians can help! Give us a call today!
24/7 Service Call Now
30+ Years Experience – HVAC Engineer