Specific commercial air conditioning issues may arise with the hot temperatures we're expecting this summer.
You rely on your air conditioning system to provide consistent and comfortable cool air for your employers, customers, and tenants. However, with the hot temperatures we're expecting this summer, there are specific commercial air conditioning issues that may arise that will need attention.
Our commercial air conditioning installation, maintenance, and repair services are outstanding. With over 30 years of air conditioning experience, we aim to keep your cooling system running at its peak during the hottest day.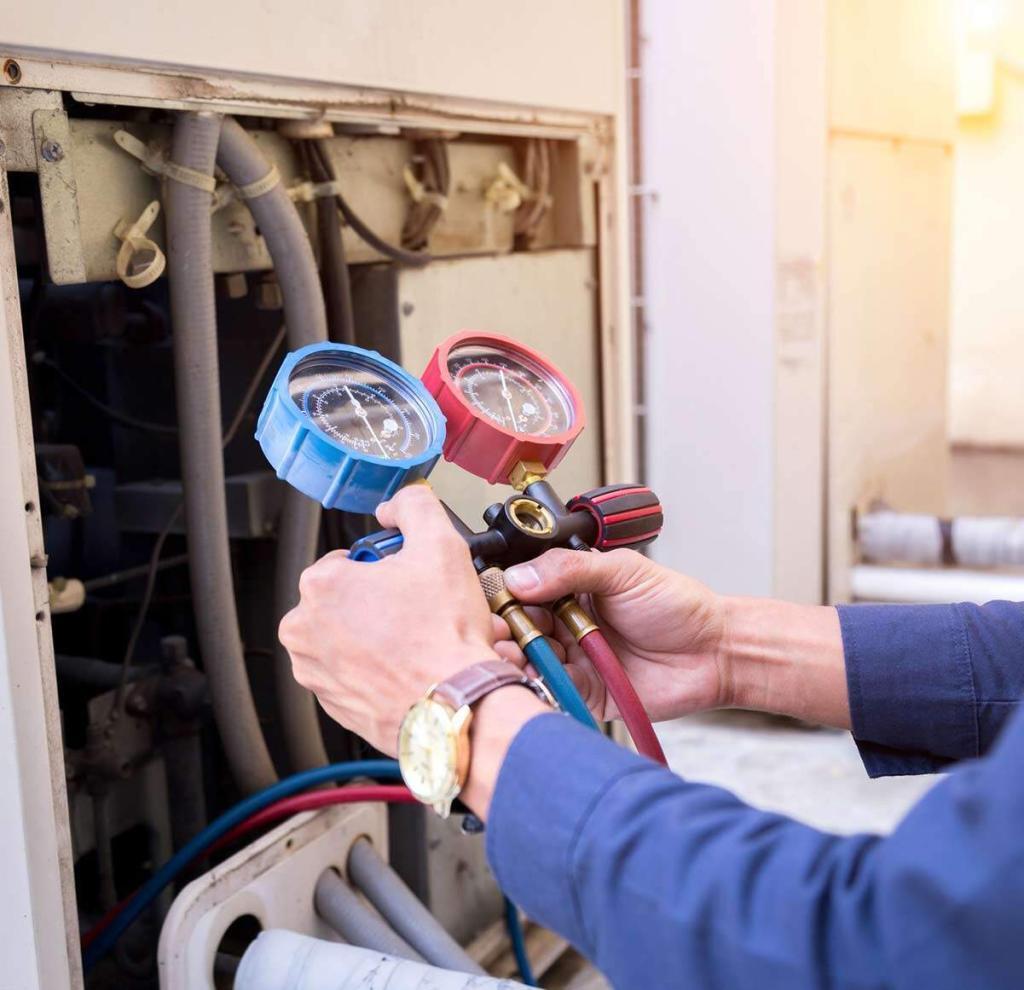 24/7 Service Call Now
30+ Years Experience – HVAC Engineer
Thomas Hoffmann Air Conditioning & Heating
Choosing the optimal heating, cooling, and ventilation products for your facility requires expertise and advice from a trusted heating and cooling experts. We work with you to understand your HVAC needs, preferences, and budget before making any suggestions.
Common Commercial AC Issues
If you're experiencing issues with your commercial AC system, one of the following problems could be the cause:
Damaged rooftop units – Most commercial AC units are installed on the roof of the building. The rooftop AC system can sustain damage when severe weather, high winds, or scorching summer temperatures occur. Changes in airflow or temperature could indicate that the unit's internal cabinet is damaged. AC systems need to be inspected regularly by an HVAC tech to look for damage or debris.
Inconsistent air conditioning – Have your employees, tenants, or customers complained that the air temperatures are inconsistent? A common complaint is that there are hot or cold spots. There may be a leak in the ductwork, or the thermostat may not be functioning correctly. You may need to schedule maintenance or repair services.
Ventilation problems – Ventilation problems can cause your commercial HVAC system to overheat or malfunction during summer use. For instance, the vents may not have been adequately installed, or they could be blocked by dirt and debris. You can handle most ventilation problems with an inspection of the unit by a professional HVAC technician.
Clogged drain lines – When the commercial AC system is in use, it generates moisture that moves through the drain lines. When the lines become clogged, the system stops working correctly. It's essential to inspect the drain lines and clear any debris.
A blown fuse – If your commercial AC system suddenly shuts off, it could be overheated. You should check your circuit breaker for a blown fuse.
A system that is too small or too large – Commercial AC systems are designed to cool specific spaces based on size. Capacity problems can result from your AC unit having excess or insufficient capacity for your building. If you're experiencing capacity problems due to your system's size, upgrading or downgrading to meet capacity needs is recommended.
There are other issues that occur during the hot summer months that we can inspect and then repair or provide maintenance for the problem. Regular maintenance visits can prevent these issues from ever beginning.
Commercial AC Maintenance and Repair
Thomas Hoffmann Air Conditioning & Heating is a full-service commercial heating and air conditioning company in St. Louis. With over 30 years of experience and a master technician and mechanical engineer as our owner, we can replace, repair, and provide maintenance for your business HVAC system.
We provide the highest quality St. Louis heating and air conditioning design-build, replacement, and HVAC maintenance services with a commitment to energy-efficient HVAC solutions that save money without forgoing comfort.
24/7 Service Call Now
30+ Years Experience – HVAC Engineer