Whatever your HVAC needs, you can count on our expert technicians to provide you with prompt and professional HVAC services.
While many people enjoy the perks of having an air conditioning system, not everyone knows there are two types of air conditioning systems: Commercial and Residential ACs.
24/7 Service Call Now
30+ Years Experience – HVAC Engineer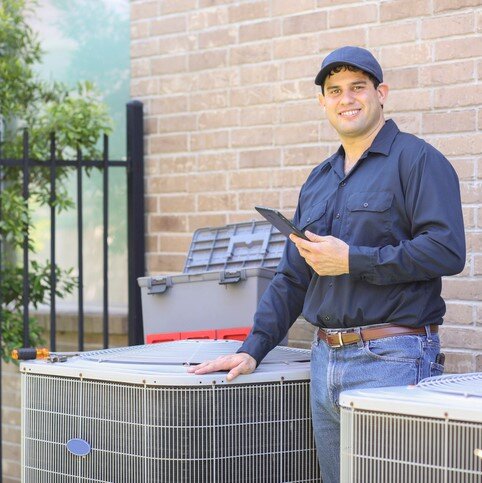 What are the differences between these two systems? Here are the key differences.
Size
Commercial AC systems usually cover large commercial areas and thus need to be powerful to cover multiple rooms and floors. They also require considerable power to help them regulate the coldest and hottest days of the year. Residential AC units are smaller in size because residential spaces are typically smaller than commercial properties.
Speaking of size, here's a general rule you should keep in mind: Before you invest in an AC, make sure the size you choose is right for your building. Why? If your AC system is too small, it may have problems running constantly. And if it is too big, it may leave excess humidity in the air. Seeking the help of an AC technician can help you determine the right AC size for your building.
Complexity
Far more is expected from an industrial AC system. This is because the system is responsible for heating and cooling larger areas throughout the day, and the system needs to cope with continuous activity. Also, the system has multiple parts compared to a residential system. This includes a compressor, condenser fan, evaporator, and dampers, which help with its multiple functions.
On the other hand, a residential system is less complex because the setting and features are minimal and do not need modification or future expansion. Additionally, residential systems cover a few rooms with relatively static requirements.
Maintenance Requirements
The maintenance requirements of an industrial system are higher than those of a residential AC system. This is due to the size and the complex nature of the components in a commercial system. Also, repairs on industrial units are generally more expensive than residential units.
Location
Residential AC units are usually located in the basement or the side of the house. This allows for easy access for technicians during repairs. On the other hand, commercial AC systems are generally located up in the roof of the building because of their large size. Other reasons include:
To avoid noise pollution
Easy accessibility during an emergency
The rooftop also allows for easier expansion when necessary
It allows technicians to make repairs without interfering with the work inside the facility
Drainage System
A commercial AC system comprises a complex drainage network, which includes multiple pans and pipes to flush out large amounts of water and eliminate the possibility of overflowing. Residential AC units, on the other hand, use simple drainage systems that include a small pan that is placed outside the house.
Thomas Hoffmann Air Conditioning & Heating Is Here to Help
Do you want to install an AC in your building? Or maybe you're looking for an HVAC technician to help you fix or maintain your AC? Whatever your HVAC needs, you can count on our talented technicians to provide you with prompt and professional HVAC services. Call us today to book an appointment.
24/7 Service Call Now
30+ Years Experience – HVAC Engineer