Our HVAC technicians can help you in the unlikely event your HVAC unit is damaged during a heavy downpour.
The need for heating and air conditioning systems in homes is more significant than ever. These units balance indoor temperatures enabling homeowners to feel comfortable, healthier, and more productive.
24/7 Service Call Now
30+ Years Experience – HVAC Engineer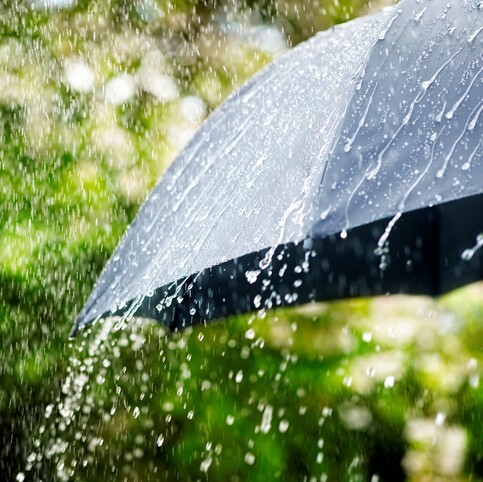 The rainy season in St. Louis varies throughout the year. However, with fall soon approaching, it's a great time to go over the effects of rain on your HVAC system. We'll also look at how our HVAC technicians from Thomas Hoffmann Air Conditioning & Heating can help you in the unlikely event your HVAC unit is damaged during a heavy downpour.
In What Ways Are HVAC Systems at Risk in the Rain?
Outdoor HVAC units are designed to hold out against hail, snow, and rain. Their electrical components, such as the compressor and condenser, are sealed with aluminum, plastic, or copper materials that are strong and corrosion-proof.
Despite the precautions, heavy rainfall accompanied by strong winds, lightning, and hail could adversely affect the HVAC unit. Some of the effects of rain on your HVAC unit are as follows:
Strong winds could blow debris into the exposed HVAC components, damaging the fans and fins on the sides of the unit.
Heavy rainfall could cause flooding. In addition, the mishmash of dirt, grime, and debris in floodwater may stick to the condenser coil, which may hamper the unit's efficiency.
If your outdoor unit is positioned in a low spot in the yard, standing water could damage its internal parts.
Indoor HVAC components, often installed in the basement or the attic, may also be susceptible to flooding. These components aren't built to cope with extreme moisture and can easily get busted.
Lightning and power outages that tend to happen during heavy rainfall pose a risk to the HVAC unit. Such power surges could compromise the outdoor compressor or the circuits.
Heavy rainfall could bring about excess condensation in your HVAC unit. This may spur mold growth in the system occasioning some rot on some components.
After a heavy downpour that had gale-force winds, be sure to check out the outdoor unit. If you spot any damage to the fins, turn off the unit and contact us to send an HVAC technician. It would be best if you also kept an eye on any debris as running the unit with some debris in the system could cause damage to it.
Additionally, while you may be tempted to cover the unit to protect it, we recommend contacting us for expert advice before doing anything. Not all materials could do the trick. For example, a plastic cover will only compound the condensation.
How Can You Guard Your HVAC Unit Against Heavy Rainfall?
You can adapt the following steps to minimize the effects of rain on your HVAC:
Keep it elevated – Elevating outdoor HVAC equipment protects it from being damaged by high winds and heavy downpours. It also protects the unit from theft.
Install hail guard – Hail guards protect HVAC coils from hail and other flying debris. It also provides the correct airflow through the system and maintains the unit's optimal efficiency.
Regular cleaning and maintenance – Cleaning your HVAC unit regularly improves its efficiency, enhances indoor air quality, lowers your electricity bills, and helps you avoid costly HVAC repairs and replacement.
Schedule an Appointment
Are you skeptical about how well your HVAC copes during heavy rainfall? Contact us to get expert advice. We'll rule out any risk of damage and ensure your unit is in perfect working condition. Call us today to schedule an appointment!
24/7 Service Call Now
30+ Years Experience – HVAC Engineer